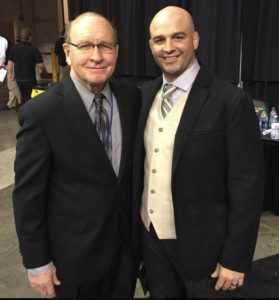 By chance or fate, a neighbor gave a young wrestler in Pennsylvania the movie Dan Gable: Competitor Supreme to watch nearly twenty-five years ago.  What an impact that movie had.  Jody Strittmatter was a very popular wrestler for the Iowa Hawkeyes.  He was always aggressive, hard working, humble, and winning.  Just what we like.  Strittmatter placed third in 2000 and second in 2001 at 125 for the Hawks. It is rare for a wrestler to be even more popular with fans after their competition days are over.  But it is safe to say that the creation of Young Guns Wrestling Club and the incredibly high quality of wrestlers from Young Guns that are becoming Iowa Hawkeye wrestlers has made the name Jody Strittmatter to be even more popular now.
I have wanted to get an interview with Jody in person for quite some time.  A Young Guns wrestling camp in Le Claire, Iowa provided the opportunity this week.  Jody was just as nice and humble as I remembered him fifteen years ago.  The impact on the sport of wrestling that Young Guns has had on college wrestling is unmatched by any other wrestling club.  Over the past six years, over 70 Young Guns wrestlers have went to wrestle in Division 1.  That is an amazing stat.
For Young Guns wrestlers at Iowa, Michael Kemmerer just completed an outstanding freshman season and Kaleb Young had a successful redshirt year.  Topher Carton of the Young Guns club in Iowa just completed his career at Iowa.  Iowa welcomes Spencer Lee, the biggest recruit in the history of Iowa wrestling, and Max Murin to their program this fall.  With recruits like that coming into the Iowa Wrestling program, Jody Strittmatter will be liked by the Iowa Wrestling nation more and more.
Jody, what is like for you to come back to Iowa?