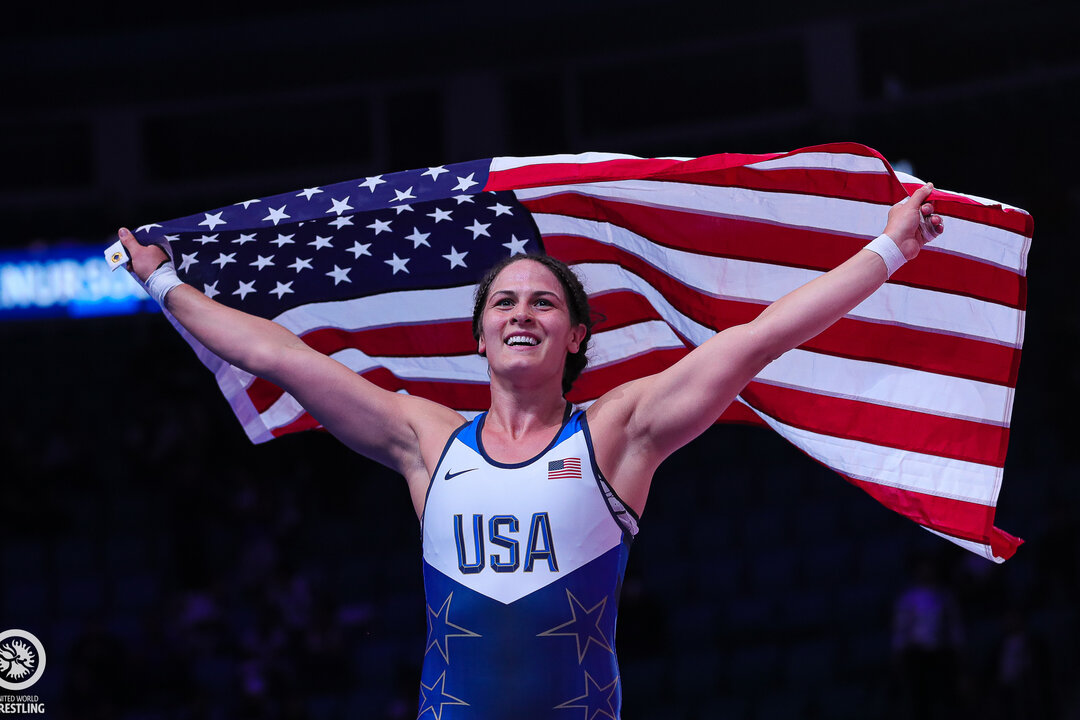 Adeline GRAY (USA) is one of three world champions that'll compete on USA's squad. (Photo: Kadir Caliskan)
NARITA, Japan (October 23) -- United World Wrestling has announced the schedule for the 18th Annual Women's Wrestling World Cup, which will take place at the Nakadai Sports & Recreation Park Gymnasium in Narita, Japan, from November 16-17.
United World Wrestling extended invitations to the top-eight teams from the Nur-Sultan World Championships to attend the 2019 Women's Wrestling World Cup, but this year's dual meet showcase will only feature six teams after No. 6 Kazakhstan and No. 8 Azerbaijan withdrew from the competition.
Earlier this year, the UWW executive board determined that all World Cup competitions should follow the same competition format for placement of teams in their respective pools, or groups. With the new system, the No. 1 team will be paired with the No. 4, No. 5 and No. 8, and the No. 2 team will be paired with the No. 3, No. 6, and No. 7 teams from the World Championships.
The United States has entered a star-studded ten-woman roster into the World Cup, with three of those ten wrestlers coming off title-winning performances in Nur-Sultan. Adeline GRAY (USA), Jacarra WINCHESTER (USA) and Tamyra MENSAH-STOCK (USA) are the trio of world champions that the USA will lean on to try to win their second World Cup team title and first since 2003.
Although Gray is looked at as a titan in women's wrestling, she'll certainly have her hands full in getting the USA back to title-winning glory. The newly-crowned five-time world champion's biggest group stage test will come against Rio Olympic bronze medalist Ekaterina BUKINA (RUS) when the Stars and Stripes goes toe-to-toe with the Russian Federation on Saturday afternoon.
The Women's World Cup will be Jacarra WINCHESTER'S (USA) first competition since winning her first world title. (Photo: Kadir Caliskan)
Reigning 55kg world champ Winchester will have a tough road in staying unbeaten in her pair of Group B matches. She'll square off against a world bronze medalist in each of her two matches. Winchester's first challenge will come against Russia's Olga KHOROSHAVTSEVA. The American will then wrestle her Nur-Sultan semifinals opponent, BAT OCHIR Bolortuya (MGL), who she beat 13-2 to insert herself into the world finals when the Americans wrestle the Mongolians on Saturday night.
Mensah-Stock is the third American world champion that'll compete at the Women's Wrestling World Cup. Like Winchester, Mensah-Stock's toughest test at 68kg in group play is likely to also come when the United States wrestles Mongolia on Saturday night.
Mensah-Stock will either wrestle OCHIRBAT Nasanburmaa (MGL) or ENKHSAIKHAN Delgermaa (MGL). Ochirbat is a four-time senior-level world medalist, while Enkhsaikan was a junior world silver medalist last year.
Sarah HILDEBRANDT (USA) and Allison RAGAN (USA) are also listed on USA's roster. Both wrestlers have world finals experience under their belt, but each fell short of their gold-medal goal in those matches. Hildebrandt (53kg) finished in second place at the 2018 World Championships, while Ragan (59kg) dropped her 2017 world finals match.
Wrestling at the 2019 Women's Wrestling World Cup begins on November 16 and can be followed live on www.unitedworldwrestling.org.
The groups for the 2019 Women's Wrestling World Cup:
Group A - No. 1 JPN, No. 4 CHN, No. 5 UKR
Group B - No. 2 RUS, No. 3 USA, No. 7 MGL
SCHEDULE
Saturday (November 16) 
10:30 – Mat A: JPN vs. UKR / Mat B: RUS vs. MGL
12: 00 – Mat A: RUS vs. USA / Mat B: CHN vs. UKR
16:30 – Opening Ceremony
17:00 – Mat A: JPN vs. CHN / Mat B: USA vs. MGL
Sunday (November 17) 
8:00 – Medical Examination & Weigh-in
10:30 – Finals 5/6
13:00 – Finals 3/4
14:30 – Finals 1/2
16:00 – Award Ceremonies